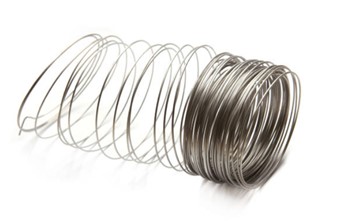 Wire Services to help the Productivity of your Project. The following are the services to help your business and your projects from Bob Martin Company.
Wire Drawing
Our facilities enable us to draw a wide variety of alloys ranging from .0100″ to .2000″ diameter. Our custom size dies allow us to provide short lead times while maintaining consistent quality. With over 70 years of experience in this area, it is our goal to exceed your expectations for delivery and quality.
Wire Straightening and Cutting
Bob Martin Company produces straightened and cut wire in a broad range of grades and materials to meet varying customer needs. Standard diameters range from .0100″ to .2000″ with lengths ranging from 0.150″ to 20-feet.
Spooled Wire
Our wire spooling services include layer level winding and random winding onto a variety of different spools to meet customer requirements.
Alloy Identification
We provide 100% alloy identification to achieve highest quality possible, using Acromag Metal Tester and Niton Metal Analyzer.
Strand Annealing
Inert gas strand annealing furnace is equipped with take-up spoolers and coilers for annealing temperatures up to 3000 degrees Fahrenheit.
Flag Tagging
A positive method of identification. The tag has a pressure sensitive adhesive backing and is placed approximately 1/2 inch from end of the rod. Tags are printed with alloy and specifications or as required by customer.
Centerless Grinding
Thru-feed centerless grinding is used for surface finishing of straight material. It is a cost effective method of producing precision parts with short lead times while maintaining consistent high quality. It is widely used in the aerospace, automotive, defence and medical industries. We offer grinding from 0.0200″ to 0.2500″ diameters in various lengths.
Wire Cleaning
We offer various cleaning options to remove dirt or oils from the wire: Ultrasonic Cleaning, Chemical Cleaning, Mechanical Cleaning or per customer requirements.
Custom Packaging
We offer standard commercial packaging and custom packaging to meet customer requirements.
Customer Material
All services are also performed on customer furnished material.
Contact us for more information on our wire services.